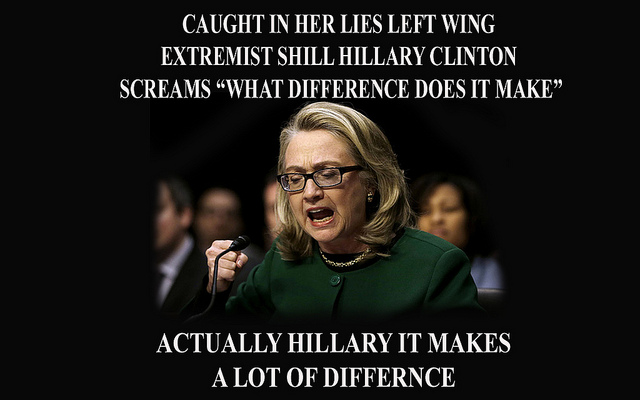 Former Secretary of State Hillary Clinton was confronted Thursday with tough questions by Republicans over the slim diplomatic security in place at the Benghazi compound before the 2012 terror attacks -- and repeated unanswered requests by the late Ambassador Chris Stevens for more support -- as she testified before the congressional committee probing the attacks.
She faced tough questions from Republicans even as Democratic panel members spent their time trying to discredit the work of the committee itself, describing it as a partisan outfit. But amid claims that the panel has focused too much on Clinton's personal email use, Republicans tried to focus Thursday on Benghazi.
TUNE IN TO FOX NEWS CHANNEL AT 7 PM ET WHEN BENGHAZI COMMITTEE CHAIRMAN TREY GOWDY GOES 'ON THE RECORD' WITH GRETA!
Rep. Lynn Westmoreland, R-Ga., noted that the late Ambassador Chris Stevens asked "numerous times" for extra security in Libya and questioned whether he was able to ask Clinton directly.
"I do not believe that he had my personal email," Clinton admitted, before adding that Stevens had a "direct line" to others.
"I did not see them. I did not approve them. I did not deny them," she said.
Rep. Mike Pompeo, R-Kan., later questioned why security requests apparently didn't go to her, yet a number of detailed messages on Libya from associate Sidney Blumenthal did.
The hearing comes at a critical juncture not only for the committee itself but in Clinton's presidential campaign. Following a strong debate performance last week, Clinton on Wednesday also saw the man who may have represented the biggest primary threat to her candidacy, Vice President Biden, opt out of running.
Yet questions about her personal email use and her actions relating to the Benghazi attack loom over her run.
The former State Department leader tried to downplay questions about what her emails did and did not show by claiming much of her work was done over phone, in person and other ways.
She said she mostly did not work over email, and even said she did not have a computer in her office while secretary of state. The puzzling comments before the Benghazi congressional committee came even as she lamented that diplomacy is still being conducted in a 19th-century way.
"I didn't conduct the business that I did primarily on email," she said, adding that she generally did not email during the day.
Despite these claims, investigators are looking into a number of work-related emails Clinton sent at the department and whether they contained classified material.
The emails came up under questioning from Rep. Susan Brooks, R-Ind., who asked why so few of her emails addressed Libya in the lead-up to the attack.
At the hearing, Clinton also was challenged over her advocacy for military intervention in Libya, with a GOP member describing her as the "architect" of a policy that has led to "disaster."
Clinton defended her role, saying she pushed for intervention to prevent "mass massacres," but stressing that President Obama made the final call to use U.S. military force.
"Our Libya policy couldn't have happened without you, because you were its chief architect," Rep. Peter Roskam, R-Ill., told her, adding: "Things in Libya today are a disaster."
Clinton said she does not "subscribe" to that view.
The exchanges marked early clashes in a hearing that is expected to last hours, as Clinton tries to settle questions about her role during highly anticipated testimony before the congressional panel probing the tragedy.
In the opening moments of the hearing, before Clinton delivered her opening statement, Republican and Democratic leaders of the committee sparred sharply over its work.
Rep. Elijah Cummings, D-Md., the committee's top Democrat, said the panel was only formed because Republicans "did not like the answers" from prior investigations. So, he said, they established the committee and "set them loose, madam secretary, because you're running for president." Cummings called it an "abusive effort to derail" her campaign.
But Benghazi committee Chairman Trey Gowdy strongly denied this.
Of allegations that the investigation is all about Clinton, Gowdy said Thursday, "Let me assure you it is not."
Gowdy also laid out the purpose of the day's testimony, saying they owe the "truth" about what happened to the victims of the 2012 terror attack.
"They were killed under circumstances most of us could never imagine," Gowdy, R-S.C., said. "They were more than four images on a television screen.... They were Americans who believed in service and sacrifice."
For that sacrifice, Gowdy said, "We owe them and each other the truth." He said he wants a "final definitive accounting" of what happened.